THE DIGITALAUDIO AND RADIO MANAGEMENT SYSTEM DX-64
Radio Dispatch Switch for critical mission networks.
Capacity up to 56 channels and 32 operators.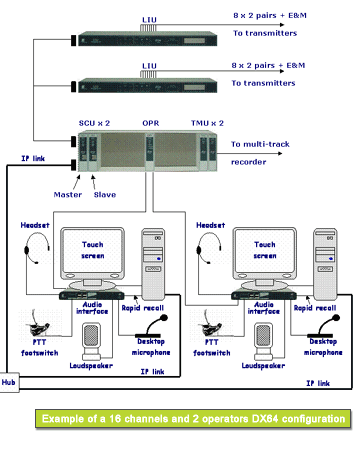 High reliability and ease of maintenance :
Hot stand-by controller modules, independent data and audio paths and hot swapping set new standards for "critical mission" installations.
Compact system :
The product is compact in size and needs minimal wiring between system components. This makes it quick and easy to install.
Scalable and future proof :
The system architecture allows for expansion to suit organisation's operational requirements and budget and also ensures that future technologies can be accommodated (specially open to the WAN).
A reputation for design excellence :
The manufacturer
Omnitronics
has been designing and manufacturing radio management products for over 25 years.
Highly cost-effective :
With standard features such as rapid recall logging and interoperability, the DX-64 represents the best value for money on the market today.
Compatible with all analogue radio networks including MPT 1327.
Customisation :
We understand that different organisations have different operational requirements, so we can tailor a DX-64 system to meet your demands.